Reconciliation Action Plan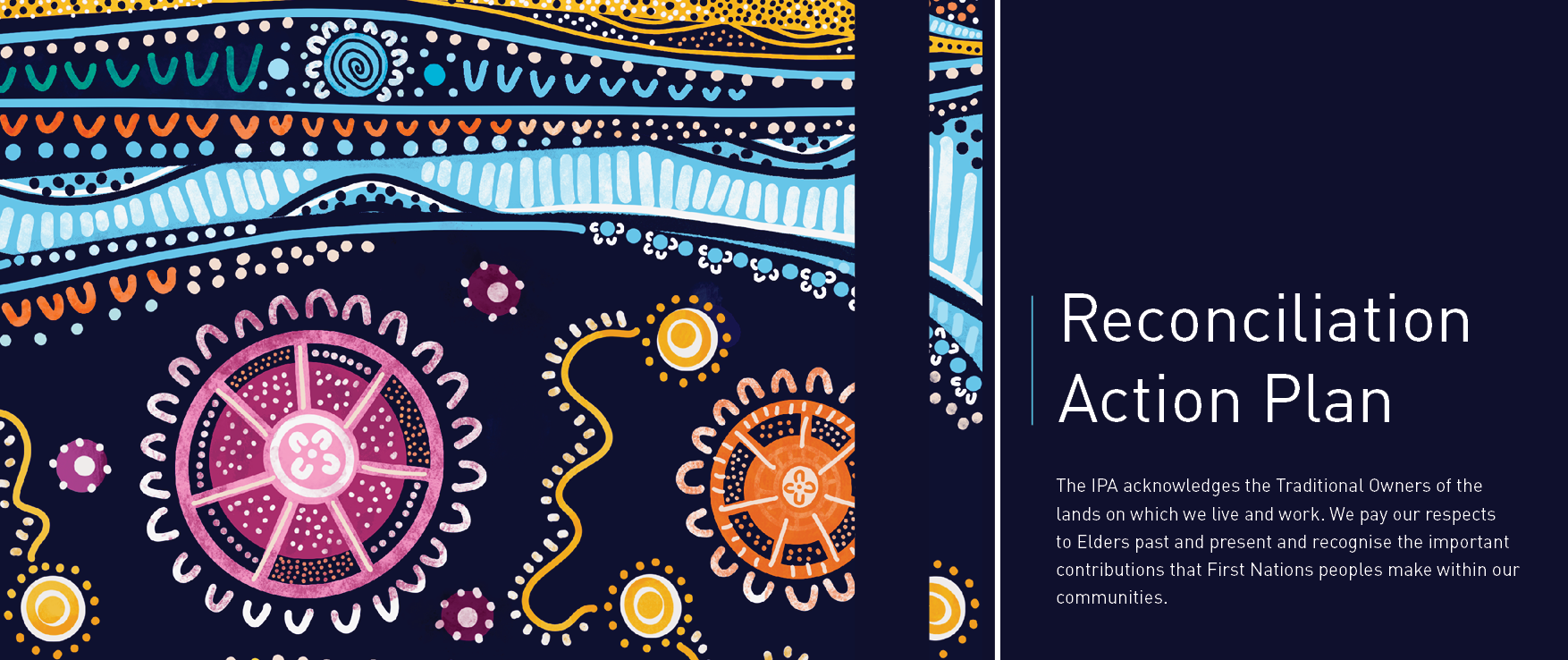 Reconciliation Australia launched Reconciliation Action Plans (RAPs) in 2006 as a framework to guide organisations to take a strategic, long-term view towards fostering equitable outcomes for Aboriginal and Torres Strait Islander peoples within their sphere of influence. There are four RAP types: Reflect, Innovate, Stretch, and Elevate.
The IPA has developed a RAP to formally establish an approach to reconciliation that is genuine and impactful, ensuring accountability through the setting of timelines and the assignment of responsibilities. Reconciliation has also been identified by the IPA as a journey and outcome that is strongly linked with our value of RESPECT. The IPA's reconciliation journey will lead us to develop relationships with First Nations stakeholders in our local areas, as well motivate us to foster culturally competent workplaces that are safe and welcoming for the employment of Aboriginal and Torres Strait Islander peoples.

Tim has a rich and diverse heritage of Oceanic First Nations peoples — Aboriginal (Mununjali), Australian South Sea Islander and Mãori. Raised in the country on Darumbal land, he learnt firsthand that we are all connected to the natural world and the many challenges his communities faces as a result of ongoing colonisation and the impact of modern Western culture. He is also a proud member of the LGBTQIA+SB community. Living between many spaces, he has an acute awareness of complex social issues, understanding how to sensitively navigate the intersection between race, culture, gender, sexuality, and spirituality.

 

He has more than 15 years' experience working in creative roles at agencies, corporations, media, government and most recently not-for-profits organisations as an artist, consultant, creative director, designer, and photographer. He has led teams developing impactful projects both locally and across the globe.

 

In 2019, he started his own business Rareland, creating a safe space to make, create and collaborate with a focus on closing the gap and effecting positive change in his communities. He is continually inspired by the resilience and spirit of First Nations people in their continued fight for rights and recognition, in particular LGBTQIA+SB people, and the natural world which gives us all life.
About the artwork - 'Camaraderie'
As a small business owner, I personally know many of the challenges involved with navigating the path to financial stability and success, especially so being Aboriginal. We must overcome additional hurdles in building financially sustainable, healthy businesses. Every relationship we forge on this journey is important, particularly with our accountants. As they are our trusted providers of financial services, their advice regularly influences our decision-making. Learning the ropes of business management, knowing you have real support with someone by your side who is by your side – a sense of camaraderie – is invaluable in achieving your goals.
As the IPA is embarking on their Reconciliation Action Plan journey, improving awareness and understanding of these challenges by taking meaningful actions to support First Nations peoples, is the first step in making a real difference in the everyday lives and future of our communities.
Working together, every step we take towards reconciliation we build a brighter, more inclusive world.

In 2020, I was invited to work alongside a large, Victorian Indigenous organisation whose purpose is to provide business support and advice, help improve visibility and networks, strengthen relationships and create opportunities for Aboriginal and Torres Strait Islander businesses. Since then, my working relationships have expanded greatly. I have had the privilege of providing advice and support to Aboriginal-led businesses, not-for-profit organisations, and networked with some deadly business leaders.

Over time, Elders have shared their knowledge, experiences, and stories with me. We have yarned about historical facts (truth-telling), life experiences, equity, and equality. I have witnessed the gap that remains between First Nations people and non-Indigenous Australians; economically, socially and culturally.

 

My journey to grow in my Aboriginal identity and reconnect with kin family from Tebrakunna Country in northeast Tasmania has been a wonderful and highly emotional experience. This has shaped my own reconciliation journey and I feel privileged to be a part of the IPA RAP working group. The extensive and heartfelt discussions that have taken place, together with the IPA's commitment to hold itself accountable for being accessible, connected, and welcoming for Aboriginal and Torres Strait Islander people, is an important step in the Reconciliation process. I am hopeful that this will bring awareness and education to people within our profession around the importance of the histories of our First Peoples.